News
EUBREAST is excited to announce this joint webinar organized by our friends from the iBRA-NET
Link to the webinar:
---
3rd EYSAC Research Academy survey
The EYSAC Research Academy just launched the newest survey.
On behalf of the European Society of Surgical Oncology (ESSO) Research Academy with the support of Breast International Group (BIG), we are inviting you to participate in this survey, "An MDT perspective on Omitting Breast Cancer Surgery." 
If you are not involved in the treatment of patients with breast cancer, please forward this invitation to your breast unit, and make this survey a success.
The survey will take only 10 minutes.
https://redcap.link/ESSOSurveyOmittingBreastCancerSurgery
This project was presented by Dr. Carmela Caballero (in CC) and was the winner of the ESSO 40 Clinical Research Pitch in Surgical Oncology (Dragon's Den Session) in 2021.  
The aim is to understand the considerations of different MDT members prior to omitting either primary tumor or axillary surgery among patients with early-stage breast cancer who have complete response to neoadjuvant systemic therapy (NST). The survey will also evaluate the engagement of MDTs in clinical trials or studies investigating this strategy. 
The survey will run from June to July 31, 2022. We encourage you to share the survey link to other members of your MDT.
---
EUBREAST Network Newsletter - May 2022
---
we kindly ask EUBREAST Members and Associates to kindly fill out this brief questionnaire.
Thank you!
---
Change in General Assembly Date: Now on Monday, May 23, 2022 at 18.00 CEST
The EUBREAST ETS (Italy) General Assembly for Effective Members of the Italian Association will be coming up soon.
The General Assembly will take place in first call on Sunday, 22 May 2022 at 23.30 CEST
And in second call on:
Monday, 23 May 2022 at 18.00 CEST
We will publish the agenda and send out information about annual payments as well as the Zoom link to the Effective Members via email shortly.
The EUBREAST e.V. General Assembly will take place in June. Effective Members for the German Association will receive an email soon.
---
Upcoming event: September 1st 2022, 13:00 - 17:00 CET
2022 virtual OPBC consensus conference on uncertainties and controviersies in axillary management of patients with breast cancer
Protocol on first phase of the OPBC 2022 / EUBREAST / Toolbox2 Project (pdf)
Protocol on first phase of the OPBC 2022 / EUBREAST / Toolbox2 Project (docx)
San Antonio Breast Cancer Conference 2021:
Highlights in locoregional treatment - A summary from EUBREAST Member Güldeniz Cakmak
---
EUBREAST ETS Extraordinary General Assembly - 15 February 2022 at 16.00.
All fully-paid (2021-2022) EUBREAST ETS (Italy) Effective Members are asked to please participate in this Extraordinary General Assembly as your presence is required for the votings. 
This meeting will take place with our Notary to discuss and approve the following points:
-Application and registration to RUNTS - National Single Register of the Third Sector 
-Minor changes to the Statutes including the change of headquarter address, Capital required to be part of RUNTS, and lowering the amount of time required to call a General Assembly to less that 60 days.
All EUBREAST Network Associates and Members are welcome to attend. Please note, however, that the majority of the meeting will be conducted in Italian out of necessity with the Notary.
.
---
EUBREAST MEMBER EDUARD-ALEXANDRU BONCI WINS AWARD FOR AXSANA STUDY AND PAPER
🅲🅾🅽🅶🆁🅰🆃🆄🅻🅰🆃🅸🅾🅽🆂 to Eduard-Alexandru Bonci 𝘄𝗵𝗼 𝘄𝗼𝗻 𝗮𝗻 Executive Agency for Higher Education, Research, Development and Innovation Funding - UEFISCDI 𝗮𝘄𝗮𝗿𝗱 𝗳𝗼𝗿 𝗵𝗶𝘀 𝗽𝗮𝗿𝘁𝗶𝗰𝗶𝗽𝗮𝘁𝗶𝗼𝗻 𝗶𝗻 𝘁𝗵𝗲 #𝗔𝗫𝗦𝗔𝗡𝗔 𝘀𝘁𝘂𝗱𝘆 𝗮𝗻𝗱 𝘁𝗵𝗲 𝗽𝗮𝗽𝗲𝗿 𝗹𝗶𝘀𝘁𝗲𝗱 𝗯𝗲𝗹𝗼𝘄:
award PN-III-P1-1.1-PRECISI2021-53265 for the article published in Cancers (IF - 6.639 (2020), 5-Year Impact Factor: 6.999 (2020), Q1), "Surgical Management of the Axilla in Clinically Node-Positive Breast Cancer Patients Converting to Clinical Node Negativity through Neoadjuvant Chemotherapy: Current Status, Knowledge Gaps, and Rationale for the EUBREAST-𝟬𝟯 𝗔𝗫𝗦𝗔𝗡𝗔 𝗦𝘁𝘂𝗱𝘆".

✔𝗨𝗘𝗙𝗜𝗦𝗖𝗗𝗜: it is a public institution subordinated to the Ministry of National Education (MEN), but also, functionally, to MEN Consultative Councils (National Council for Higher Education Funding, National Council for Scientific Research, Consultative Board for Research, Development and Innovation and National Council for Ethics). UEFISCDI was created in 2010 with the mission to centralise the funding and coordination activities of higher education, research, technology development and innovation. This centralisation reflects a change in the Romanian Research, Development and Innovation (RDI) system, i.e. separation of the RDI policy-making and performance evaluation functions, retained by the Ministry of National Education, from the implementation functions, delegated to UEFISCDI and some consultative councils.
EUBREAST Network Newsletter - October 2021
---
AXSANA 1000th patient
The AXSANA study team proudly announces, that the 1000th patient has been included into the study by PI Dr. Ingo Bauerfeind, Landshut, Germany. The International Steering Committe wants to thank al collaborators for their tremendous contributions.
---
BIG – Breast International Group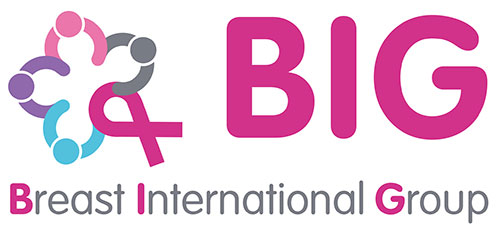 EUBREAST e.V. (Germany) and EUBREAST ETS (Italy) are thrilled to be members of the BIG Against Breast Cancer Network
>> more information
---
General assembly of EUBREAST (Italy)
Dear EUBREAST Members,
As the date for our General Assembly is drawing near, we would like to provide you with some information about Network, the EUBREAST (Italy) Association Executive Board elections, as well as the meeting itself.
1. As you may know, the EUBREAST Network structure has been undergoing some changes and currently consists of a Scientific Network Board that serves as a bridge between our two official associations:
EUBREAST Italy (the Association of which the majority of you are members)
EUBREAST e.V. (Germany)
These two associations have legal status in their respective countries and are responsible for the duties and requirements specified in their by-laws (for example: proposing fundraising strategies, drafting and approving financial documents, promoting independent Breast Cancer research).
2. During this General Assembly, we will be voting to approve the nominees for the EUBREAST Italy Association's Executive Board. The following EUBREAST members are currently planning to run for the EUBREAST Italy Association Executive Board:
Dr. Oreste Gentilini
Prof. Thorsten Kuehn
Dr. Rosa di Micco
If you are interested in running for the EUBREAST Italy Executive Board, please let us know via email by no later than:
Monday, May 3, 2021 - 9:00 CEST.
Details about the voting process will be sent out shortly.
3. We would also like you to note that, in accordance with our by-laws, you must be an Effective Member to vote/run in these elections. As specified in Clauses 8.8 and 17,4 of our Statutes, Effective Members are required to pay an annual membership fee. Therefore, if you are interested in voting in this election, we must kindly ask you to pay your membership fee of Euro 50 by no later than:
Monday, May 10, 2021 – 9:00 CEST.
However, it is not necessary to be an Effective Member to be able to attend and participate in this Assembly – all members of our Network are welcome to attend.
If you are interested in voting, your membership fee can be paid to:
EUBREAST (Italy)
Banca Mediolanum 
IBAN: IT 42F0306234210000001998079 
SWIFT-BIC: MEDBITMM
C.F. 97828280152
Reference: Membership fee + Your full name
This membership fee will also include other benefits to be discussed during the General Assembly.
The Agenda for the General Assembly is as follows:
Confirmation of correct invitation, number of participants, and quorum

 

Report from the Chairman (T. Kuehn)
Report from the Treasurer (F. Peintinger) and Approval of financial statements
Future Structure of the EUBREAST Network
Approval of new EUBREAST (Italy) Executive Board

 

Reinstatement of membership fee and what EUBREAST will offer their members
Brief report of project status
Various

 
Lastly, we would like to remind you that in accordance with our Statutes, the first call of the General Assembly is set for Monday, 17 May at 21:30 pm CEST - but as we cannot confirm that the required quorum will be reached (and we do not wish for anybody to lose time) - we would like to inform you that the second call will take place directly on:
May 18 2021 at 19.00 CEST – Zoom link to follow.
Please do not hesitate to contact us with any questions.
Kind regards,
Prof. Thorsten Kuehn
Dr. Oreste Gentilini
---
International, Interdisciplinary (Surgery / Radiooncology) Survey of EUBREAST on regional Management
 

in Clinically Node-Positive Breast Cancer Patients converting to Node-Negativity after Primary Systemic Treatment

Dear colleagues,

 

The management of lymph nodes after Primary Systemic Treatment has been a matter of intensive debate in recent years. This relates to the role of diagnostic surgical procedures (ALND, SLNB, TAD) to asses the ypN status as well as to the therapeutic options in case of lymph node involvement. No data are available, whether evidence based guidelines for regional treatment from patients undergoing upfront surgery can be translated into the post PST setting. Similarly the clinical impact of low volume (chemoresistant) metastases (pN1mi, pN0i+) is unclear. The St. Gallen Conference 2021 highlighted many of these unsolved issues related to axillary management after PST.

 

Locoregional treatment of breast cancer requires a close interdisciplinary approach, specially between surgeons and radiooncologists. In order to assess the variety of treatment standards for lymph node management after PST in different institutions and countries the EUBREAST study group and experts from ESTRO developed a survey on controversial issues related to the topic. The questionnaire is addressed to surgeons and radiooncologists.

 

We would appreciate, if you would support this effort and fill out this questionnaire.

 

We would also appreciate, if you forwarded the survey to your national (or international) breast cancer associations for further distribution. We will name participating societies in the final paper.

 

The survey will be open until may 31.

 

Thank you very much for your support.

 

Maria Luisa Gasparri, Jana de Boniface, Oreste Gentilini, Orit Kaider-Person, Philip Poortmans, Thorsten Kühn

 
---
Live Webinar - April 15, 2021

Controversies of the St. Gallen Consensus Panel in locoregional treatment -
How Would Clinicians Vote?
Full video of the webinar
---
German newsletter 04/2021
---
Interview AXSANA
Prof. Dr. Thorsten Kühn and PD Dr. Maggie Banys-Paluchowski
---
Live Webinar
The Impact of Biology on Breast Cancer Surgery
Successful EUBREAST Webinar of Janury 28, 2021 with 120 participants.
Full video of the webinar 
---
BREAKING NEWS from San Antonio:
Janine M. Simons MD PhD, member of EUBREAST, presents results of RISAS trial at SABCS  
Successful first EUBREAST Webinar of June 17, 2020 with 90 participants.
Full video of the webinar 


---
EUBREAST article published in "The Lancet Oncology"
A gap analysis of opportunities and priorities for breast surgical research
Download PDF
Link "The Lancet Oncology"