News
AXillary Surgery After
NeoAdjuvant Treatment
The international AXSANA
trials has recruited the
first patient in July 2020!
International newsletter 04/2021
German newsletter 08/2021
1000th patient
The AXSANA study team proudly
announces, that the 1000th patient
has been included into the study by
PI Dr. Ingo Bauerfeind,
Landshut, Germany.
The International Steering Committe
wants to thank all collaborators for
their tremendous contributions
---
EUBREAST Network
Newsletter - October 2021
---
Live Webinar:
December 2nd, 2021
at 18.00 CEST
SLNB or TAD after NAC in cN1
---
Live Webinar:
October 21, 2021
at 18.00 CEST
Risk-Reducing Surgery
in Mutation Carriers
---
BIG –
Breast International Group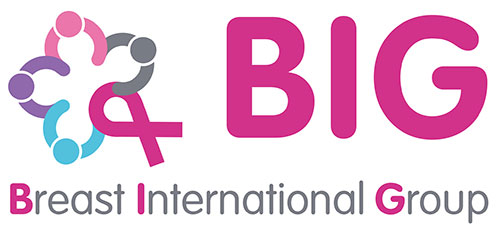 EUBREAST e.V. (Germany) and
EUBREAST ETS (Italy)
are thrilled to be
members of the
BIG Against Breast Cancer Network
>> more information
---
1st BreastGlobal Conference
---
Interview
AXSANA
Prof. Dr. Thorsten Kühn
PD Dr. Maggie
Banys-Paluchowski
---
Live Webinar
 Controversies of the St. Gallen
Consensus Panel in
locoregional treatment -
How Would Clinicians Vote?
Thursday, April 15, 2021
18:00 - 18:50 CET


---
Breast cancer treatment
in the COVID 19 pandemic
EUBREAST offers access to
relevant literature and
recommendations for
physicians and patients.
Welcome
The EUBREAST Network is a group of independent, charitable non-profit associations. The Network's primary goal is to research less extensive approaches to breast cancer surgery in order to improve cancer patients' quality of life and help them return as quickly as possible to their professional and active daily lifestyles. The renowned European breast cancer surgeons who make up this network have combined forces to ensure that this scientific progress is transferred more swiftly into clinical practice, to the direct benefit of the patients.
The EUBREAST Network plans and coordinates the implementation of projects, studies and trials. Each Association in the Network is an independent, legal entity ( Italy  - Main focus: Webinars / Events) and Germany (current main focus: Studies / AXSANA). 
Download Flyer Englisch (PDF 600 KB)
Download Flyer German (PDF 600 KB)
Italy:
Current main focus:  Webinars / Events
EUBREAST (Italy)
Contact:
Dr. Oreste Gentilini
Via Alessandro Manzoni 38
20121 Milano MI
Italy
E-Mail: gentilini@eubreast.com
Network Coordinator:
Sarah Goldman
+39 340 7625201
E-Mail: goldman@eubreast.com
Germany
Current main focus: trials / AXSANA
EUBREAST e.V.
Contact:
Prof. Dr. med. Thorsten Kühn
Chairman
Baumreute 37
D-73730 Esslingen, Germany
Phone: +49 711 3103 3051
Fax: +49 711 3103 3052
E-Mail: info@eubreast.com
The founding of EUBREAST
The idea of the EUBREAST network was born at the 15th International St. Gallen Consensus Conference on Breast Cancer in Vienna in 2017. Nine European experts on breast cancer surgery discussed options of how to promote scientific collaboration of surgical oncologists within Europe. In September 2018, the EUBREAST non-profit association in Italy was founded. In Germany, the non-profit association EUBREAST e.V. was founded in October 2020. Both registered charitable associations cooperate as a network in order to reach their common goals.